Additional & up-to-date information
for participants in the joint WG5/J3 meeting 213 in Garching/Munich
Date: May 3, 2017
How to get to the LRZ building and the conference room

Please get off the underground line U6 at the last stop (Garching Forschungszentrum). The following drawing shows the layout of the LRZ building. Please use the main entrance at Boltzmannstraße. 1 to enter and exit the building. Inside the building, you will need to go to the ground floor to get to the passage to the conference room in the extension wing (2nd floor). Further rooms will be available for breakout sessions.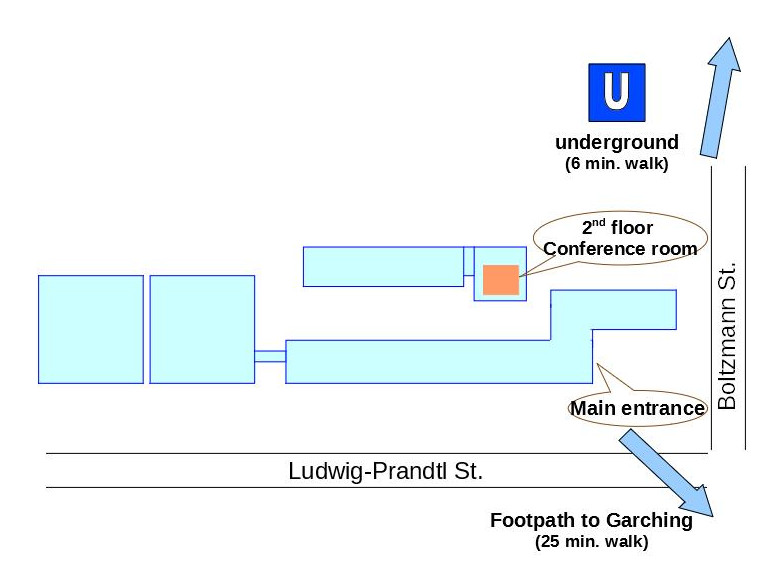 For the footpath to Garching Google Maps supplies the following suggestions: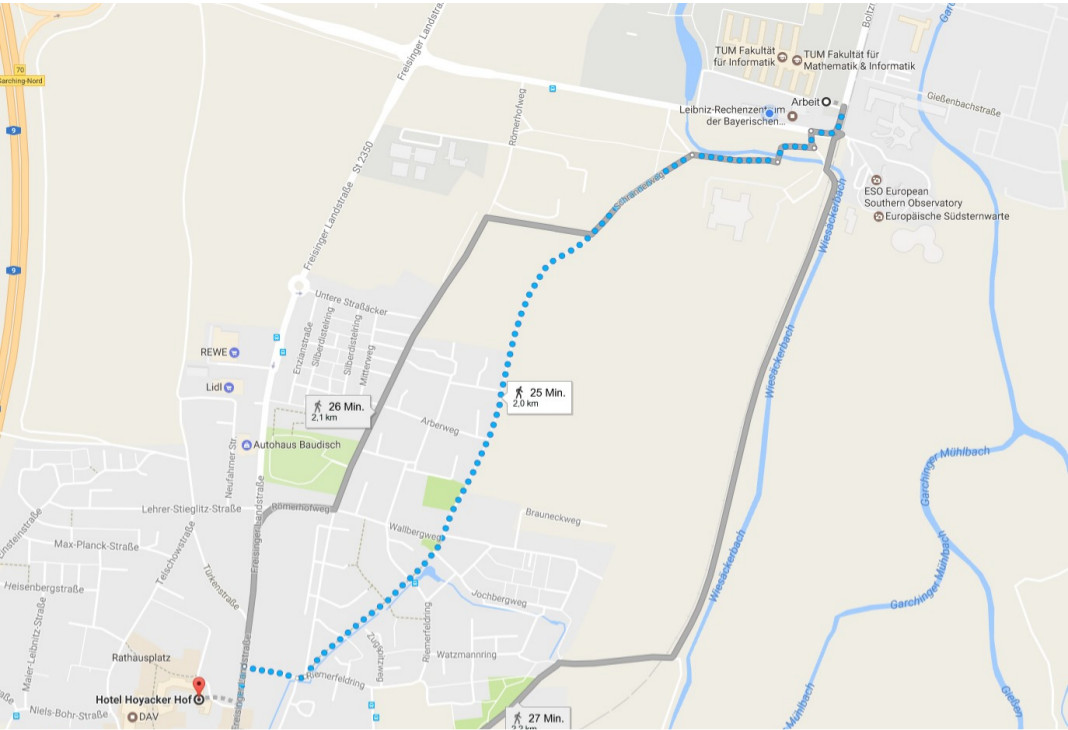 Available Infrastructure
During the conference, a wireless connection point will be active. The validation information will be available as a printout in the conference room.

If printing services are required, please contact the host.

If a taxi is needed, please fill in an order sheet (provided in the conference room) in advance, to avoid double orders or other misunderstandings.
Guided Tours through LRZ's computational and visualization infrastructure

Arrangements have been made for tours through the computational facilities (SuperMUC, June 29, 6:00pm-7:00pm, guided by Rainer Oesmann) and the visualization infrastructure (V2C, June 27, 6:00pm-7:00pm, guided by Dr. Volker Weinberg). The guides will pick up participants at the conference room.

Dinner event

On Wednesday evening (June 28), a joint dinner (self-funded) is planned starting at 7:00 pm. A reservation at Neuwirt Garching (only a few foot minutes from Hoyacker Hof) has been made. As a special event (starting around 7:30 pm), the band "Classic goes Bluegrass" will do a half-hour or so gig to honour John Reid's retirement as convenor of the international Fortran Standards committee, and to welcome Steve Lionel as his successor.